Hotline Nos. Awards: +91 8595350504, Conference: +91 8595350505, Exhibition: +91 9311231351
Indian Education Show 2015
June
10 - 11, 2015,
Vivanta by Taj,
Surajkund, New Delhi
5th Annual
National
Convention
on Education
400+ Entrepreneurs & Professionals
200+ Institutes & Education departments,
50+ Global Experts & Innovators,
1000+ Awards Nominees
One Mega Show
REGISTRATION CLOSED

Thankyou for making Indian Education Congress & Awards a grand success.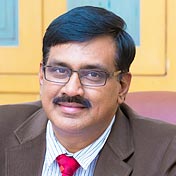 Mr. Sirish Turlapati
Chairman & Managing Director,
Iris Florets
"Gone are those days... where every three bed room house owner use to start a play school in one bed room, without proper research, infra, curriculum, In today's scenario, it's highly impossible to successfully run a pre-school without proper infra, curriculum etc. If you want to make it big and successful, there is no other alternate, but to establish a full fledged pre-school and provide high quality activity based curriculum.

Mr. Sirish Turlapati is the Chairman & Managing Director of Iris Florets, the happy play school. He started his journey as an entrepreneur with his own ITES Company called Millennium Techno Soft Ltd. in 1999. During course of time, he decided to take up his passion of educating the young minds. At this point, he took up the franchise of one of the leading names in preschool education in India. This one franchise was just the beginning and soon he had 10 franchises in Andhra Pradesh & Telangana states, with staff size of more than 300 and a turnover close to 5 crores. That's when the thought of having his own brand of schools creped in and then he succeeded in creating iris florets - the happy play school. He have been conferred with various awards like the "Acharya Devobhava" by leading educational magazine Branfeed in 2014, "School Academic Excellence award" in an "International School Education Leadership Summit" in Malaysia in 2015.