Hotline Nos. Awards: +91 8595350504, Conference: +91 8595350505, Exhibition: +91 9311231351
Indian Education Show 2015
June
10 - 11, 2015,
Vivanta by Taj,
Surajkund, New Delhi
5th Annual
National
Convention
on Education
400+ Entrepreneurs & Professionals
200+ Institutes & Education departments,
50+ Global Experts & Innovators,
1000+ Awards Nominees
One Mega Show
REGISTRATION CLOSED

Thankyou for making Indian Education Congress & Awards a grand success.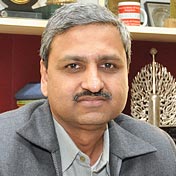 Prof. Rajaram S Sharma
Joint Director-CIET, NCERT
Prof. Rajaram S. Sharma heads the Central Institute of Educational Technology of the NCERT. He leads initiatives in exploring appropriate applications of ICT in education, including radio and television, audio and video, web and interactive multimedia applications. He is closely associated with the implementation of the National Policy of ICT in School Education, particularly the development of a National Repository of Open Education Resources and a curriculum which aims at enabling teachers and students in meaningfully using ICT to enhance their capacities to learn. In a career in education, spanning over twenty five years, he has been a teacher, teacher educator, trainer and researcher, exploring active methods of learning, helping children become independent learners, enhancing teachers competency and capacity for innovation, and helping school systems explore appropriate ICT to reach out and bridge divides. He champions the Creative Commons and Free and Open Source Software applications.