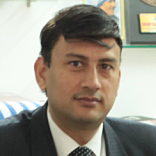 Mr. Vishal Jain
Chief editor, School of Educators
Mr. Vishal Jain, a young educator and Various national Award winner, Advisor Shanti Niketan Vidyapeeth, Meerut, Chief Editor and CEO Managing Director Leo C.H.C.Pvt. Ltd. ( An ISO: 9001 company developing School Management software ) ,Consultant for various schools and expert on Multiple Intelligence and other school management related skills.

He is B.E. (Computer Science), P.hd*, M.Ed.* B.Ed., MBA by education did leadership training at IIT Delhi and IIM Lucknow. Vishal strongly believes that ordinary educators are capable of extraordinary students development and that the key to this is creating highly charged educators. He takes a personal interest in developing teams and leaders and invests significant time as a faculty in leadership development programs and teacher training processes .Vishal Jain is deeply involved in trying to improve Quality of school education through its "www.schoolofeducators.com" initiative,The financial resources to this mission are personally contributed by Vishal Jain.

He has conducted workshopsfor CBSE, NUEPA, Air force School Principals , CBSE Sahodaya Complexes, Gurgaon Progressive schools.