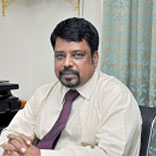 Prof. MJ Xavier
Director, IIM Ranchi
Prof. MJ Xavier obtained his Doctorate in Management (1984) from the Indian Institute of Management, Calcutta. He is an engineer with an MTech (1979) in Chemical Plant Engineering from Regional Engineering College, Warangal and BTech (1976) in Chemical Engineering from Coimbatore Institute of Technology.

With more than 25 years of professional experience in teaching, research and consultancy, he has taught at leading institutes like XLRI, Jamshedpur, IIM-Bangalore. He has also been a consultant to several companies in India and abroad.

He has authored several books and articles in both national and international journals and magazines. He has been bestowed with many awards including the Education Leadership Award organised by Asian Confederation of Businesses, "Pride of Jharkhand", AIMS International Outstanding Director Award for 2012. He has also received the Education Leadership Award by ET NOW, Chanakya Award 2012 for Innovative Leadership and the Amity Academic Excellence Award 2012.