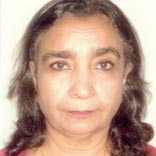 Ms Gowri Ishwaran
PadmaShree Awardee, Founding Principal-The Sanskriti School & CEO, tGELF Services
A recipient of the Padma Shri Award in 2004, Ms. Gowri Ishwaran is an innovative educationist with over 30 years of experience in leading schools in the Indian schooling system. With a very clear vision of the type of educational experience and nurturing the idea that children deserve a better experience, she has brought a paradigm shift on how education needs to be imparted to young students. She has been the Founder Principal of Sanskriti School, New Delhi, an institution that has become one of the leading schools in India within a short span of 10 years. She has also been instrumental in developing, organising and conducting training programmes and seminars by disseminating her experiences and learnings.

Her expertise lies in creating a value-based curriculum, integrating technology with the curriculum, focusing on inclusive education for children with special needs and the socially disadvantaged. Her guiding philosophy is to educate each child to become a life-long learner so that they grow to becoming a caring, sensitive, responsible citizen of the world.

Her commitment to this programme stems from her conviction that it is only by investing in the young that we can secure the future.

A gold medalist and an MA in English Literature, she reads extensively and also writes for newspapers and magazines.